Chip came into rescue last year and went to the vet that November to be brought up to date on everything he needed. So, this November, he had to go back. It was time for another 4dx (heartworm, lyme, erlichiosis, anaplasmosis) and a kennel cough booster.
Chip was very happy to get to the vets office and to greet the technician and student helper. He loves spending time with people, even if they are doing odd things to him. He sat patiently for his exam and was cooperative as his blood was drawn. I sat with him reading a magazine waiting for the vet to come back in and read the test results.
This is all pretty routine. I work in the vets office one day a week, and we do many 4dx's. It takes 8 minutes to get the results. We see lots of lyme positive dogs, and lots of anaplasmosis positive dogs.
So, I was expecting the vet to come in and possibly say he tested positive for one of those nasty tick borne diseases. I wasn't prepared for her to look at the test and say something to the effect of, "uh oh, I don't know what this one is. I know it's not lyme or anaplasmosis though. Which leaves heartworm or erlichia." As she sent a tech to get the info that would give us an answer, my heart sank.
We don't have erlichia around here. We had it a lot in FL where I worked at a limited admission shelter. We could call the poor erlichia positive dogs as their sad excuses for owners walked them through our door, hoping to be rid of them. Emaciated and barely putting one foot in front of the other, the looked like the walking dead. Which in a way, I guess they were, as they would be turned away, with the request that the owner treat them and then they could bring them back. But we knew, 999 times out of 1,000 they would drive down the road to the open admission shelter. The last ride that dog would ever have. But I digress.
So, though we waited, I knew. The vet asked me where Chip was from. Chip came from NH, via VT. Once a cherished pet, he was cast aside when the daughter left for college. Given away through an online ad to a farm in VT. I'm sure they felt pleased with themselves about finding him such an ideal home. So Chip moved to Vermont, where he was left loose and unattended; a dangerous thing for any dog, for a high drive border collie, it can be and often is, disastrous. Bored, Chip found entertainment in chasing the passing cars, and in chasing the horses in the pasture. And so it was decided, Chip had to go. Another online ad placed. This time, however, fate stepped in. Chip's ad was spotted by a volunteer for New England Border Collie Rescue. A spot was found for him in a foster home, a volunteer went to evaluate him, and a network of volunteers helped to transport him from that dangerous living situation to a temporary home, where he would be cared for until he found his forever family.
It was taking a long time for Chip to find that home, however, which was why we were sitting in the vet's office, waiting to hear what I already knew was going to be dreadfully bad news. The door opened, the technician returned, and it was confirmed. Chip had tested positive for heartworm disease. Most people don't really think about heartworm disease in a real concrete way. If they are good owners, they try to listen to their vet and remember to give their monthly preventative, and get their pets tested yearly. But the whole concept of heartworm is a bit foreign here in the Northeast. I mean, how many dogs do you hear about that have heartworm around here, really? Oh sure, the odd dog brought up from the south. But local dogs? No, people don't really think of it as a very real threat. Yet it happens. And it was happening to Chip. The situation gave me a flashback. I was 21. I had just graduated college and adopted my first dog, and had taken him to the vet to be checked out. I was so excited. And then the vet came in and told me. My dog had tested positive for heartworm. The blood drained from my face and I had to sit down. The vet, concerned I was about to pass out, made me sit down while he called the rescue group. They would take care of the treatment. The outlook was good. My new dog would probably be ok. The treatment was tough, but it had been improved upon from the first generation of treatment. My dogs first family hadn't really thought about heartworm at all. In fact, they didn't even know what it was. Hadn't heard of it. That was in 1999, and that was in NH also. Here I was 10 years later, with another NH dog, getting another diagnosis of heartworm.
But what happened? Chip had been tested a year ago, and was not positive then. The problem is, that once a dog is infected with heartworm disease, it takes 6 months before the dog will test positive. Since Chip came into rescue in late October 2008, and was tested November 1st, any exposure to heartworm that may have happened since that May would not have been picked up. Unfortunately for Chip, he apparently was exposed to heartworm disease in that period of time.
Luckily for Chip, he is still in the care of NEBCR and will receive treatment shortly. A new volunteer has stepped forward foster him following the treatment, so that he can be kept as calm and as quiet as possible while expelling the deadly worms from his system. No, it's not an easy treatment or recovery, but Chip is a courageous, fun loving dog, and he has a fighting spirit. I know I'll be pulling for him to get rid of those nasty heartworms and to go on to find that perfect forever family once and for all. Won't you join me?
Chip is indeed lucky to have found NEBCR. In fact, he was the recipient of an amazing dog bed, lovingly handcrafted by one of our fantastic volunteers, Trisha. Please see below for some photos of Chip enjoying his new bed!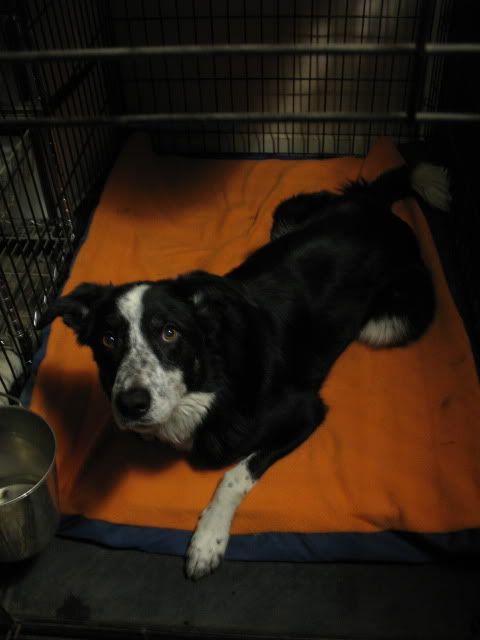 And here are a couple of pics of Chip enjoying the snow.