Hi, I'm Darby and I'm available for adoption! I'll be up on the website as soon as it cooperates! In the meantime, my foster mom will put it here along with my purty photos!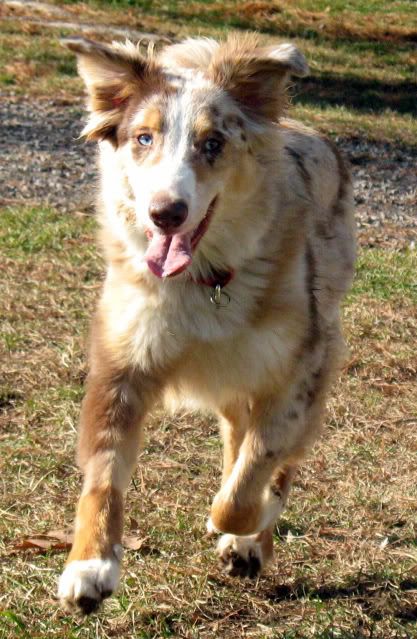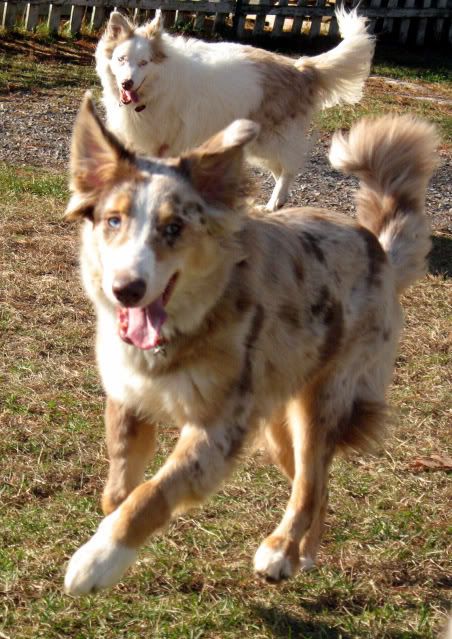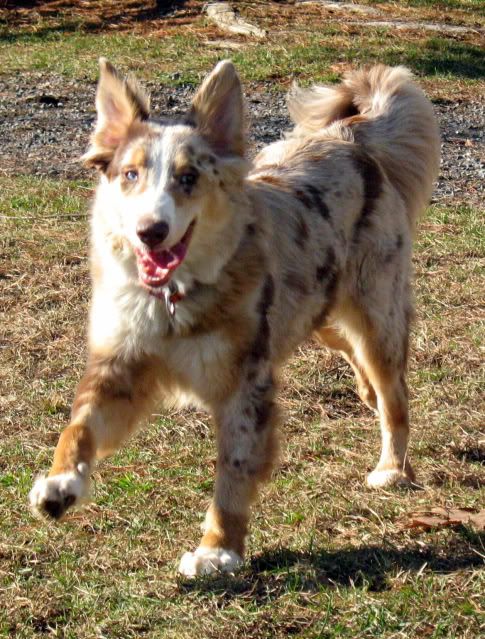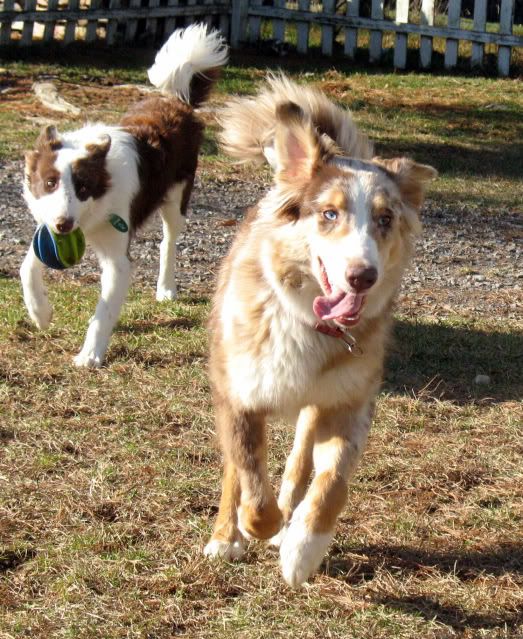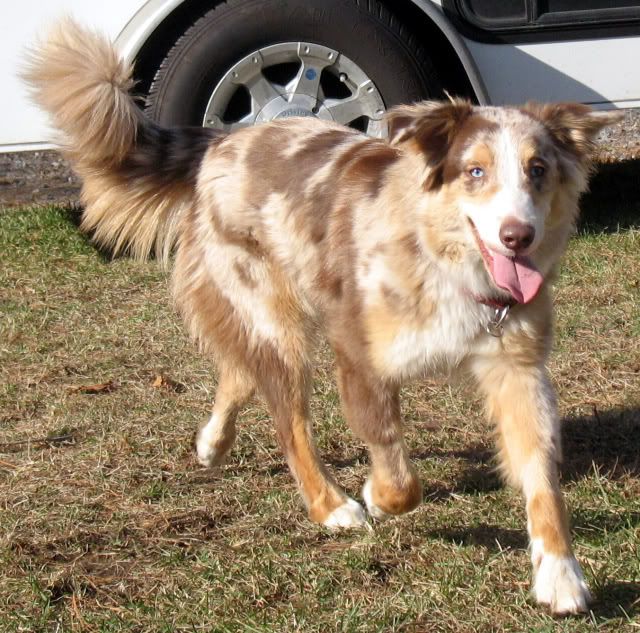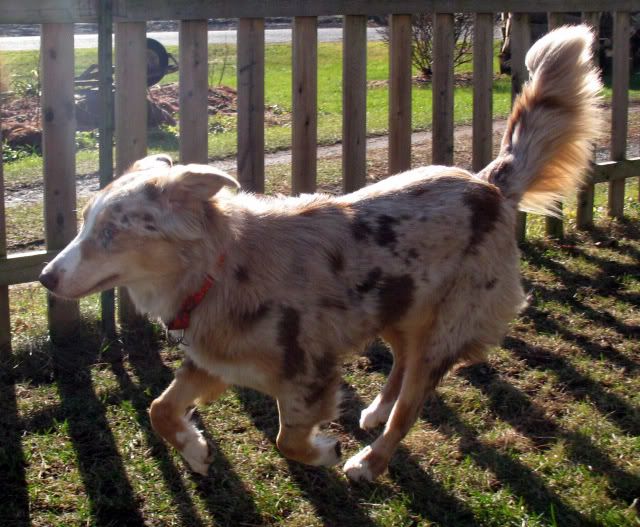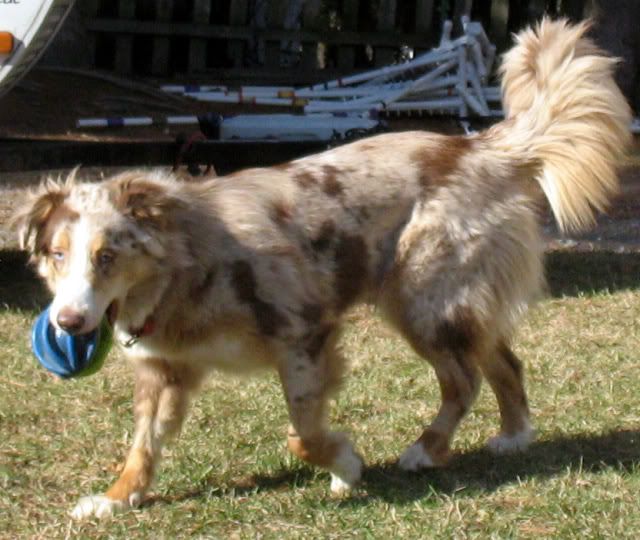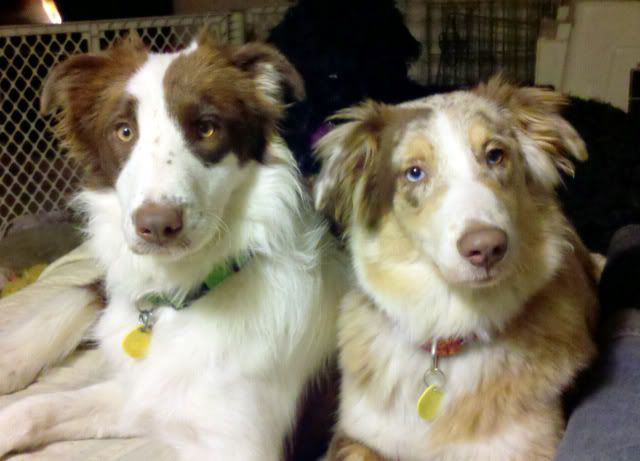 Well, as you can see I love to run and race around with my foster siblings, and I also love cuddling with my foster mom, too! Read on to see the bio she wrote up for me!
Darby is a beautiful, sweet young female Australian Shepherd with a tail, possibly with some Border Collie in her as well. She will be a year old in February, but has had a very rough start in life. Born at an isolated home in the woods, she lived there with her parents and brother and met very few, if any, new people. One day, her owner apparently needed to go away for the day, and left the 4 dogs tied to trees with their muzzles duct taped shut! Darby's mother escaped and found help, resulting in the pups eventually making their way to shelters. Darby unfortunately was struck by a car when she slipped her collar when out for a walk, resulting in a collapsed lung and internal bleeding. Fortunately, she has healed up completely and shows no lasting effects from her ordeal. From the shelter Darby made her way to NEBCR and she is being fostered in NY state, on the border of southern VT.
Due to a lack of proper socialization when she was younger, Darby is very shy and avoids interacting with new people. It takes her a couple of days to completely trust someone new, but once she does she becomes a little shadow, wanting to be right with you, go wherever you go and hang out as close as possible. Outdoors, she enjoys chasing after the other dogs in her foster home, and occasionally chasing after a toy, though she hasn't learned to bring them back yet but will pick it up and carry it a few steps so far before dropping it.
Indoors, she loves hanging out right with her person, snuggled up close and relaxing until the next trip outdoors to play.
She is a bit nervous as first meeting new dogs but quickly becomes comfortable and at ease with most dogs. She has had a harder time meeting very large, boisterous dogs, understandably. She is great with cats, completely ignoring them, unconcerned about them lying next to her, or running about playing in the house.
Darby is a bit of a talker, outdoors she will sometimes bark with excitement during play, although not too often. More often, she whines a bit when she's excited or needing a little extra attention, although this has grown less as she's become more comfortable in her foster home.
Darby is crate trained, and is learning some basic training, although mostly working on feeling brave and comfortable in new situations.
Her adopter will need to be patient working with her to continue to raise her confidence. She is very lovable, sweet and endearing, and certainly makes working with her rewarding and fun. She's going to make a lovely addition to the right household.
It is unknown how she is with children however due to her shyness we would probably not recommend her to a home with kids unless they were very dog savvy.
A fenced yard is preferred, but depending in the applicant's situation may not be required if we can be assured her adopter's are able to meet her exercise requirements, while ensuring her safety.
Completing an approved positive reinforcement based training class will be a requirement of her adoption.
Contact: Amy for more information.